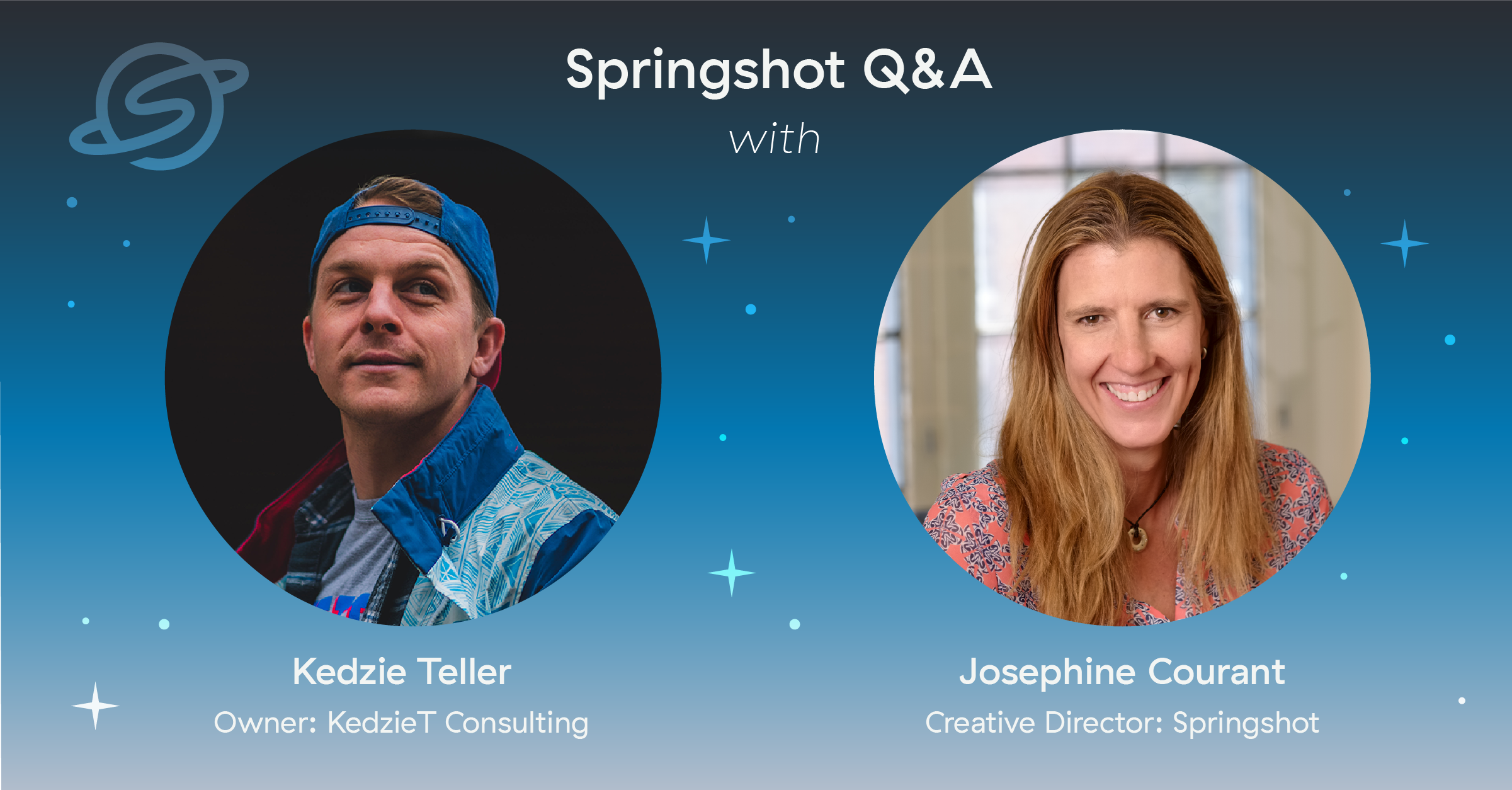 In early 2021, Springshot partnered with marketing firm KedzieT Consulting to launch a strategic and distinct presence on the LinkedIn business networking platform. What followed was an effective year where we solidified ourselves as a thought leader in the aviation and mobile communications industries. We've told many of our favorite stories in our own words, and we're happy to say that LinkedIn was the perfect match to set our social media presence in motion.
Following these successes, the natural evolution of our content push is a move into Instagram. Through this platform that boasts roughly 1 billion active users, we will showcase more of the humanity and lightheartedness of our brand and our workers. 
To provide background on our social media strategies, we turned to Springshot's Creative Director, Josephine Courant, and Kedzie Teller, founder and lead consultant of KedzieT Consulting, to reflect on our past approach and share more about our future Instagram launch.
Q: Can you take us through the thinking behind Springshot's first social media presence on LinkedIn?
Courant: As chance would have it, we pushed our Springshot brand live in early 2020 right when the whole world shut down because of COVID-19, literally the week before the pandemic began. So in early 2021, this was our opportunity to re-introduce ourselves — starting with LinkedIn.
Teller: We wanted to lean into making Springshot a thought leader in the B2B space, and there's no platform better for that than LinkedIn. I knew our target audience would gravitate to content that showcased Springshot's expertise in this sector, and it sounded like a really fun challenge for me. I brought in Communications Strategist Jordan Rowe immediately because I know she is a fabulous storyteller. One of the things that Springshot CEO Doug Kreuzkamp and Josephine both emphasized immediately is that Springshot has a very unique story.
Q: What is the strategy behind the LinkedIn content?
Teller: I believe in the power of brand stories. So, the launch was about storytelling, not about sales. That's why we structured out the year with quarterly themes that allowed us to share unique, substantive narratives. Springshot had never talked about themselves before in any way, other than through their website. The sky was the limit in terms of the types of things we could talk about. 
Courant: The beauty of working with themes, especially when you're just starting up, is we got to understand what resonated with our audience and made them engage. Because this is a brand new endeavor, we didn't know. We didn't know if product content was going to be the biggest story or if industry work was the biggest story.
Teller: So we started with what types of industries we serve so that our audience got an understanding of what we do. Then, we moved into talking about the customer experience as well as the individual user's experience when they are interacting with the platform on their mobile phones. In the third quarter we moved into product, which is where we got more detailed into how we developed and evolved the product, including the people behind its engineering and design. The fourth quarter has been about our partnerships, and we are presenting an end-of-year review, all the great things that we accomplished in 2021.
Q: What are some highlights from the first year?
Teller: The most powerful thing that we did this year was launch the Always Essential campaign which highlights the essential workers who have been using Springshot day in and day out to keep life moving during the COVID-19 pandemic. It was not only the most fun work for us to do — and the most emotionally charged work for us to do — but it was our highest engaged content of the year.
People want to hear these human stories. It's a unique space for Springshot because we enable so many people in a mobile workforce that has now become more common. Remote workers are a mainstay of our world these days, and Springshot has a distinct role in that, supporting the ever-growing need for mobile efficiency.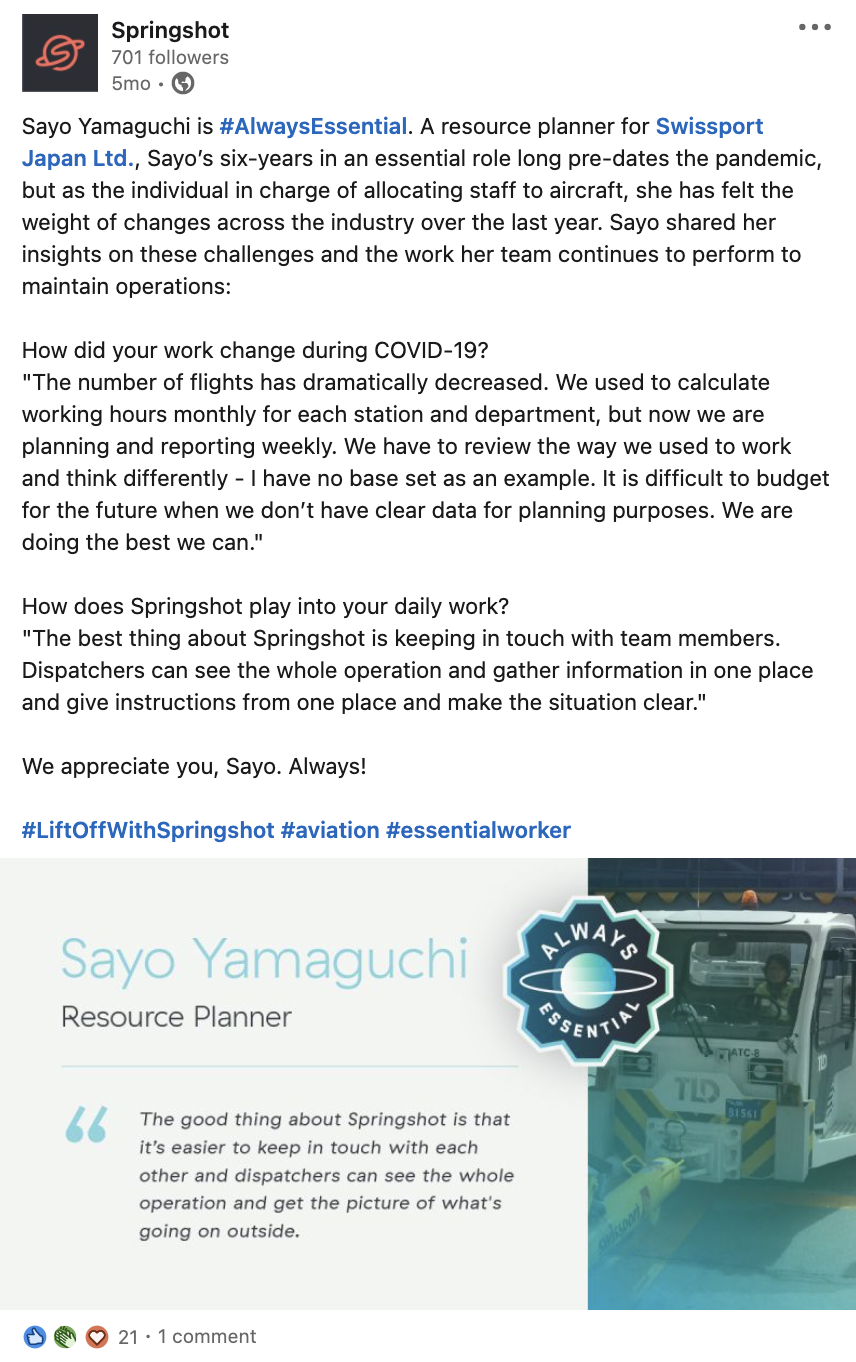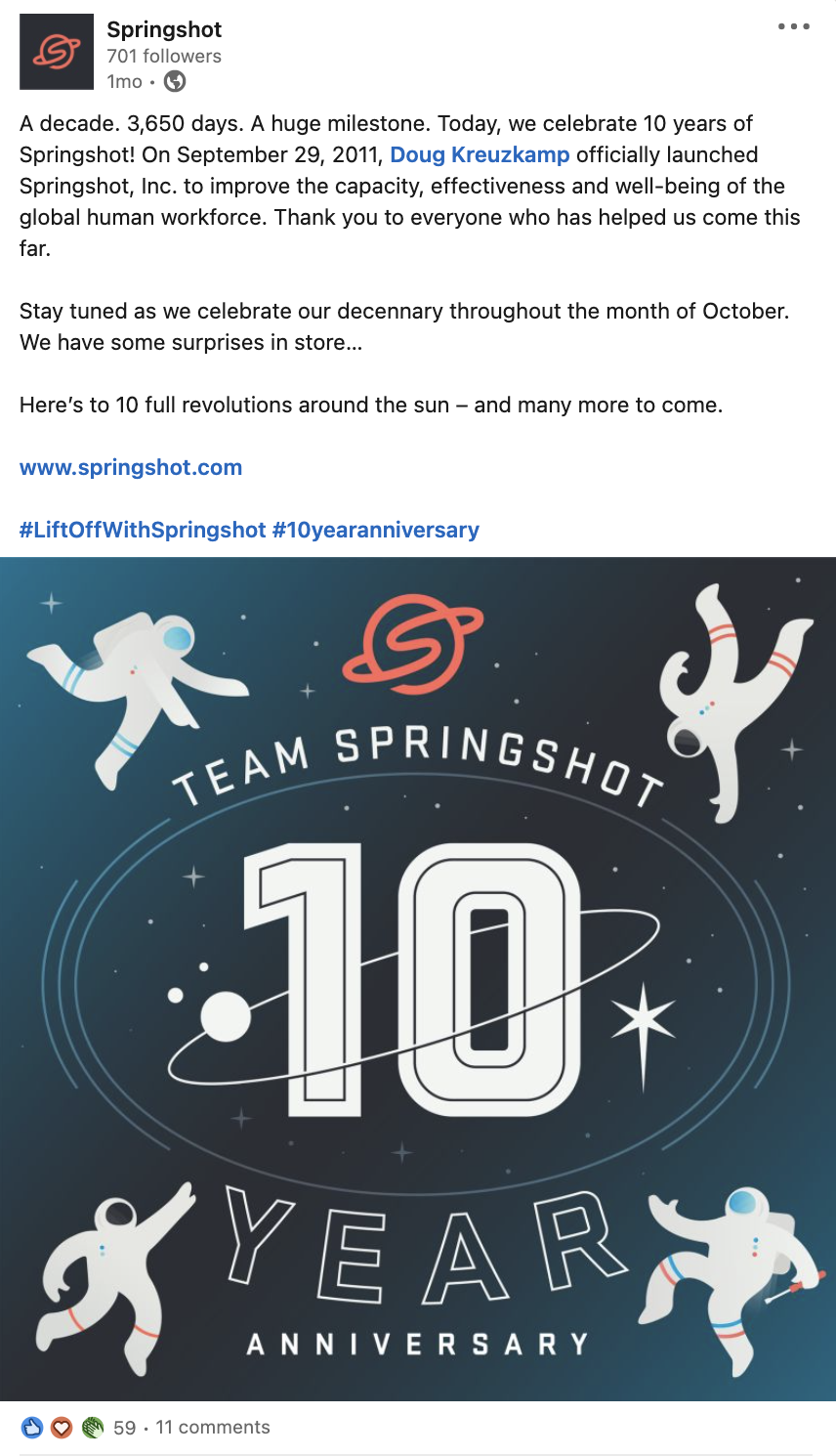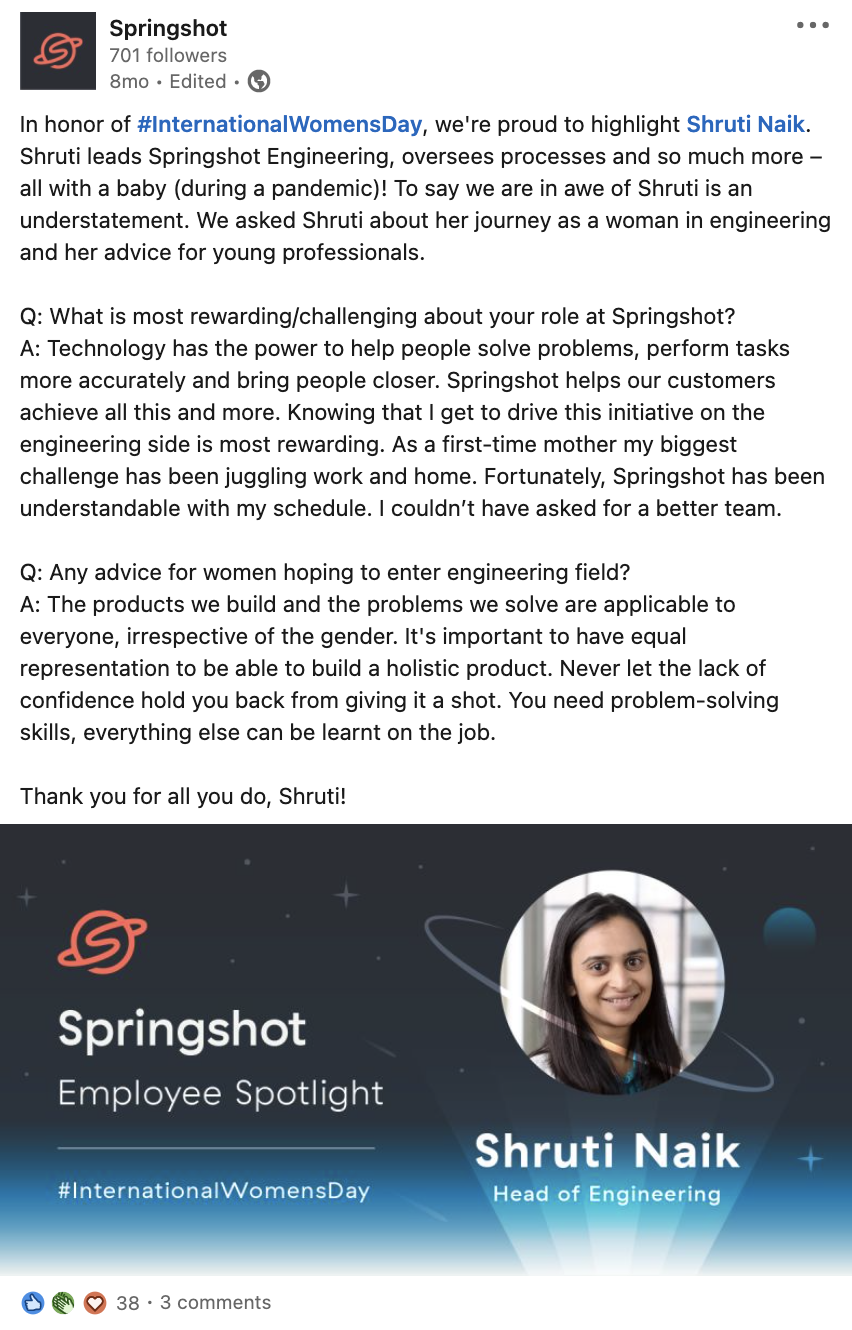 Q: Have there been any silver linings from launching an initial social media presence during a pandemic?
Courant: There have been silver linings in two areas. One is that the work we're focused on has come to the national forefront of everyone's mind. The whole concept of an essential worker has been there for eternity, but has never been given the limelight. The way Springshot positioned it, that these workers are essential, it just really clicked. It was a puzzle piece that was just a perfect fit. So I don't know if we would have reached that whole theme had we not gone through this pandemic.
Secondly, especially with aviation being our primary industry that completely shut down due to the pandemic, as the world starts to re-open, a lot of people aren't going back, a lot of people are resigning. So they are really now looking to Springshot and to Doug to help them restructure their workforces, make them more efficient, make sure that the people who are coming to work are happy and are going to want to stay for a long time.
Q: Moving into Instagram, why does it feel right to launch on that social platform now?
Teller: When we set up our content strategy for LinkedIn, we established four content pillars to help guide content creation and identify what subjects resonated best with our audience. Now, one of our pillars, culture, is something that always performs well on LinkedIn. But because LinkedIn is a more professional environment, you can't always be as visual, fun and lighthearted as we think the Springshot brand really is. Springshot has this whimsicalness to it and approachability that I haven't seen elsewhere in the tech industry. 
Instagram is a place where you can really use that to your advantage and carve out your own niche. It is the place where we can expand on our creativity. It's bringing these stories that we've seen succeed in a very static world on LinkedIn into a much more dynamic one on Instagram. We'll use video and audio in a way that will be more fluid, interactive and personable. The stories that we're telling are really of those people working on the ground, and we need to meet them where they are. 
Courant: Going back to the Always Essential campaign, which, again, is really core to who the company is, those stories will be much better told on Instagram, graphically and with sound. Instagram is just a natural evolution of Always Essential, to bring these people to life with the flexibility to do so in creative ways. I also think more of our Springshot users use Instagram than LinkedIn. And it's another opportunity to find other organizations that care about similar things as us. 
Springshot is about bringing separated people closer together. When you really think about it, there's no platform better suited for that than Instagram. That is what Instagram is for: creating community.
Q: What else excites you about the possibilities for the brand on Instagram?
Teller: At the end of the day, Springshot is about bringing separated people closer together. When you really think about it, there's no platform better suited for that than Instagram. That is what Instagram is for: creating community. There is a synergy between what we're setting out to do and what Instagram's environment allows users to do. With so much momentum behind our content creation, now is the perfect time to launch this new endeavor.
Courant: Our whole Springshot platform is about bringing teams together: We work together, we win together. We were doing it with the product, and we're also trying to do it holistically. The product, the business is better reflected on LinkedIn. The holistic human beings coming together is better reflected on Instagram. We need both. It's not that one is better than the other.
Q: What is the significance of the timing, aligning with Springshot's 10-year anniversary this fall?
Teller: Now that we've built this successful process of creating content, it's time to evolve. It's time to tell stories in new ways that meet people where they are. It's time to have a little more fun. The 10-year anniversary is the perfect catalyst for that. As we celebrate a decade of Springshot's work, we are diving deeper into the ethos of the company, the people that have built it, and the amazing users who have made it so successful. Instagram is the perfect environment for highlighting all of these powerful stories and bringing everyone together. 
Ideally, by the end of next year, we will have created a community of our own users that engage with us in a whole new way. It's not just through our app, and it's not just as they're doing Missions. Now they can show us the ways that they use Springshot. They can just show us what they do at work. They can show us how they work together. We can share stories together and connect in a more personal way.
Courant: We always want to be seen as part of the team. We also want to have more fun with it. Life has become really serious, work has become really serious. The jobs that these people do are really serious. I want to put a little bit of humor and some fun elements into that work life. The Springshot brand is very equipped to add a little bit of sense of humor and laughter, and that makes everyone healthier overall.
Q: Finally, what was the thinking behind your Instagram handle, @springshotcrew?
Teller: We named ourselves Springshot Crew, not Springshot Inc., and not something overly serious like Springshot Software. It's Springshot Crew, because we want to reinforce the importance of our community. It's not just us; it's every person involved that makes the company operate. Everyone who touches Springshot is part of our crew.