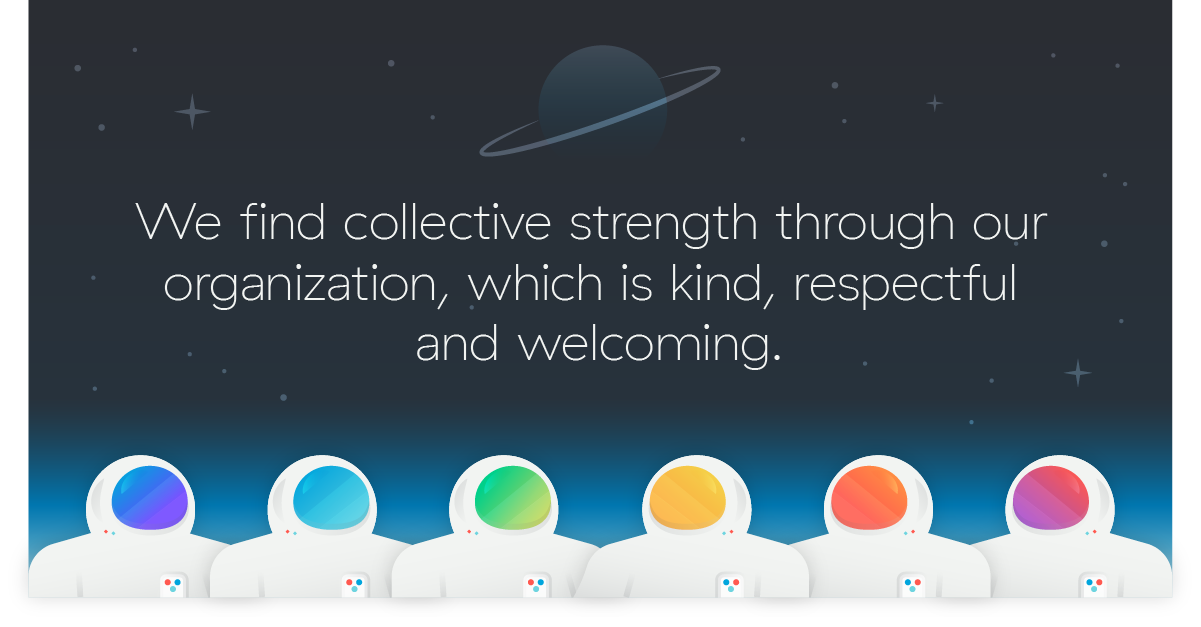 We have created something special here at Springshot, and we believe that our people come first. It's our team — and our teamwork— that has made our goals surrounding collaboration and data analysis come to life over the last 10 years. To that end, diversity, equity and inclusion (DEI) has become a cornerstone of our internal culture, and we know that our future depends on a shared commitment to DEI.
We believe in our people and in the power of intrinsic motivation, and we know our platform helps people perform better. Not only have we created a mobile app that celebrates workers' achievements and helps them collaborate with peers and the community around them, but internally our employees also receive that same type of warmth and partnership from the people at all levels of our company.
Each month, an internal Springshot DEI group meets to discuss our objectives when it comes to further development of our diversity and inclusion strategy. Our stated DEI mission encapsulates the following:
We live at the intersection of technology and humanity. We are driven to build an innovative, intuitive and collaborative platform that simplifies the complex. We find collective strength through our organization, which is kind, respectful and welcoming. Given the breadth of what we seek to accomplish, the needs of our noble user community and the conditions necessary to propel us all ahead, we believe our future depends on a shared commitment to diversity, equity and inclusion.
Through our platform, we will engage, embrace and inspire people from all races, genders, ethnicities, religions, nationalities and educational backgrounds. With this privilege comes great responsibility. To understand if our product and organization truly remain reflective of our goals, we will seek regular feedback. As stewards of a platform that affects so many, we will actively incorporate this feedback into our daily actions and continuously assess all opportunities for improvement.
There are several ways we keep our DEI philosophy top of mind. We are committed to having ongoing conversations with our employees that give them a voice regarding our DEI efforts in action and our plans for the future. For example, in March 2021, we sent out our first employee engagement survey to measure engagement from team members, track and ensure growth as a team, and celebrate areas of wellbeing.
From the survey, employees overwhelmingly agreed that Springshot is committed to diversity and inclusion. The majority of team members surveyed also agreed that the company provides an environment for the free and open expression of ideas, opinions and beliefs. We plan to send out a survey annually.
Additionally, we keep a shared global holiday celebrations calendar to help build and strengthen our teammates' relationships. We promote birthdays, work milestones, and regional and religious holidays.
Each quarter Springshot also highlights one employee who brings to life our values, and this person receives our Crew Member Appreciation Award. This recognition is important because having a clear way to showcase our DEI values through an employee's achievements will hopefully inspire other employees to strive to reach similar goals — and elevate them.
Looking ahead, we plan to expand on the DEI efforts that we have in place in a collaborative way that emphasizes empathy and respect. We will prioritize our inclusion goals surrounding race, gender, orientation, and underrepresentation of any kind. We intentionally built Springshot as a safe place that values diversity and we will continue to do so as our business grows.
We can't wait to share our further progress related to diversity, equity and inclusion, and we hope you'll help us honor our amazing employees as we move through the next 10 years.