Mark Pantilon travels light. He knows his way around airports—every other week, he heads to SFO for work-related travel, zipping through security without hassle. And for years, he worked in Cabin Service for Air Serv in the very same airport.
On the outside, Mark embodies professionalism. At 25, he was the youngest manager in charge of more than 100 employees and was tasked with turning his team's reputation around. He got the job done by rallying the crew, showing them his vision and, above all, expressing gratitude to his colleagues.
Being exposed to a professional environment at a young age drove me to hold myself high and always over-deliver. Not only with the task at hand, but in the way I treated people around me.
Between shopping dates and partnering up for mud-crawling, bar-hanging, rope-swinging obstacle races, Janelle keeps Mark on his toes. As a young father, Mark learned to dedicate time, patience and understanding in developing his relationship with Janelle after some dark years with his own father.
Growing up, Mark and his two younger sisters were confronted with their father's struggle with addiction. Mark's stable and comfortable life in San Jose took an unexpected turn at 16 when his father lost his job, leaving the weight of their family on his mother's shoulders. Mark's family weathered a hurricane as they watched their father's life unravel.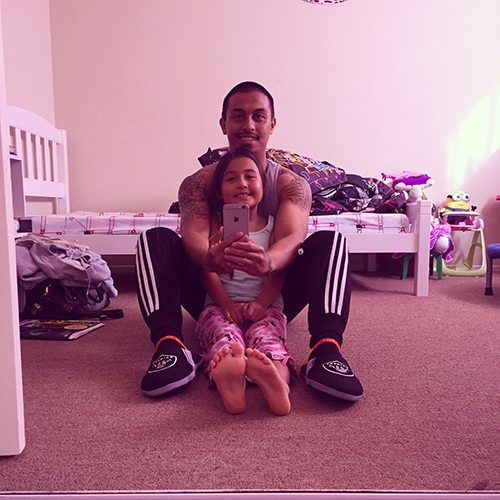 Mark held this close to him and promised to never let it become an excuse for wasting time. At 18, he began working for Air Serv where he met Doug Kreuzkamp, who has been a mentor to Mark for almost a decade. As a VP of Air Serv at the time, Doug nurtured Mark through the sometimes unpredictable obstacles of navigating a new career. Their relationship, however, was never contingent on hierarchy or hours at a desk.
On his 21st birthday, Mark was on his way to a meeting in San Diego that was cancelled last-minute. Unsure of how to spend the next few days in an unfamiliar city, Mark called Doug and explained the situation. Should he turn around and go back? "You just turned 21, right?" Doug asked. "Head out to town, have fun and enjoy yourself!"
It was one of the biggest roadblocks of my life and it forced me to grow up fast.
Mark took a lot from Doug's example. The trust and gratitude given to him influenced the way he would treat his own team one day, and as serendipity would decide, he discovered his favorite city, San Diego, for the first time.
In the shadows of his troubled family life, Mark faced the situation head-on and rose above it. The anger that was once inside of him transformed into a healthy and determined focus over the years, driving him to become a better son, brother and father. Between his colleagues and daughter, Mark is determined to brighten and enhance the lives around him.
And people clearly love working with him. By the time Mark is done visiting with new customers for Springshot launches, he knows nearly every employee's name.
Every station has its own personality, and once we break the ice we have fun. It reminds me of my own operation before.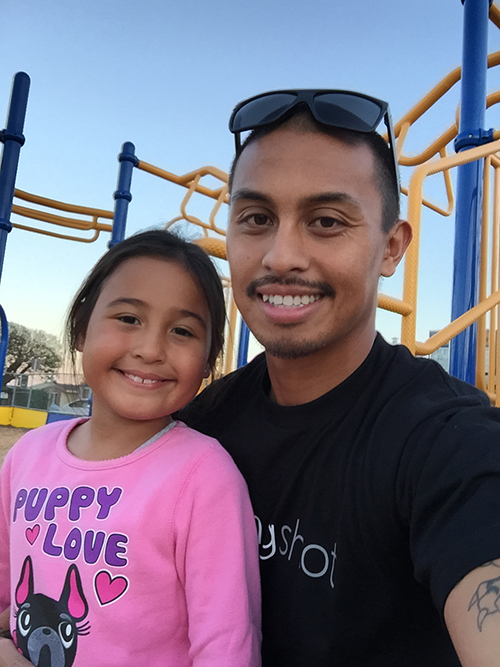 Mark knows from personal experience that compassion is key to earning people's trust and raising morale, and that a "thank you" or "great job" goes a long way. He feels it's his responsibility to be a leader people can look up to and to pass along the goodwill that was extended to him by Doug and others.
Now at 28 years old, Mark looks ahead to his future with his family. He plans on taking his daughter back to the Philippines, where he was born, and hopes to one day move to San Diego. But before all of that, he and Janelle have another obstacle race to get ready for. In some ways, he's been preparing for it all his life.